Sprout is a gardening app my partner Natalee Holt and I designed to help beginner gardeners succeed in growing food at home and be able to input personalized information about their type of space and desired crop.
I worked on the branding, logo, and app animations, while Natalee worked on researching and creating our product statement, and coming up with the app name. We both created the app layout and interface, plant emojis, and colors.
Our goal for this project was to make it easy and fun to grow food in a simple and visual way. We wanted users to create a habit and take ownership over where their food comes from by successfully growing their plants.
We completed background research by first listing out our assumptions and then looking at competitors, creating a survey, and conducting interviews. We found that most people want to grow their own food, either to save money, be healthy, or for enjoyment, but they have trouble remembering to take care of their plant or don't know all the necessary information.
We created a user flow map based on our research to look at all the necessary steps in the process of using our app, and begin tweaking things to be more concise and simple to use.
We went through a paper prototyping, and then digital prototyping process to test the flow of our app and simplify as much as possible. My partner and I ended up cutting a lot of steps out of the set up because we got feedback that there were too many screens. We also learned about the difficulty of icons, and had to make sure that our icons were either very understandable or paired with type.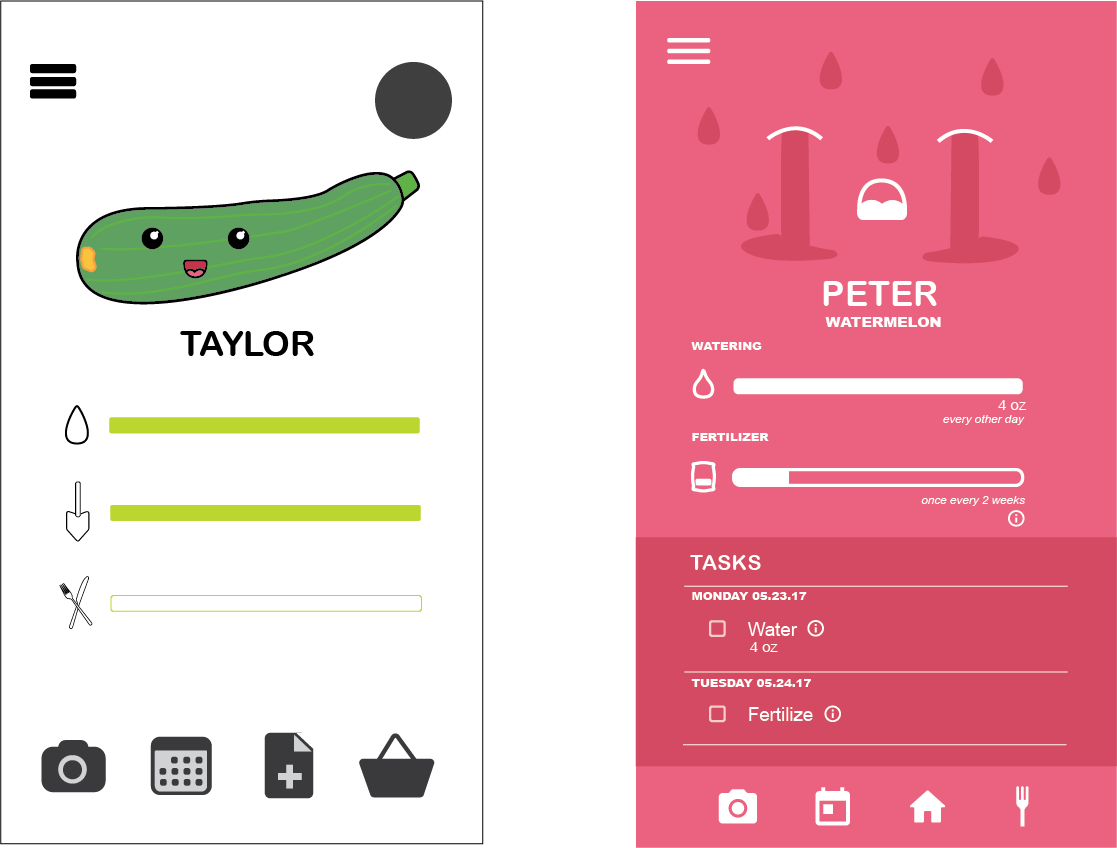 At this point in our process we also changed a lot to the visual design of our app, and took out unnecessary parts or simplified even more. A great example of this is with our plant profile screen, where we went from having a plant emoji icon to making the screen itself into the plant.
Creating this app was a great learning experience in UX design, and keeping the user in mind throughout the whole process. I learned how important research is, because without it I don't believe our app would have turned out as successful as it did.
For the future of our app, we would like the integration of a social aspect, whether through the sharing of photos or offering others advice on growing plants. We would also like to expand the badges aspect of the app, and make it a more integral part of the experience.